Did anyone else notice how bloody cold it was today? Apparently tomorrow it's going to be even worse. And of course, I decided to wear a skirt and heels to uni today, with a pathetically thin coat. Silly, silly, silly. All I could think of all day was coming home to a nice hot bowl of soup...
87. Mushroom Udon Soup
I've actually been putting off making this one, delicious as it sounds, because Nigella prefaces the recipe by saying that it's "the sort of supper I might make myself to get back on track if I've gone out and had pig's trotter - fat, cartilage and all - with mashed potato for lunch". This made me think that the soup would be too light for a proper meal, and would ultimately result in us raiding the snack cupboard for biscuits and chips later in the night.
How wrong I was. It's a Nigella recipe, there's no way in hell it wouldn't fill you up. We were all very satisfied, and warmed through and through. I just remembered, actually, the last time I made a
noodle soup
was for dinner after wearing a skirt out on a 15 degree day. Hah.
It tasted fantastic - the meaty mushrooms, the slippery noodles, the salty soup... and, it was simplicity itself to make - it only took about 20 minutes in total. The soup base is a mix of the dried shitake mushroom soaking water mixed with dashi powder, some soy sauce and sesame oil. Then you chuck in the mushrooms and udon noodles, and boil it until cooked. Sprinkle with coriander and nanami togarashi. Easy.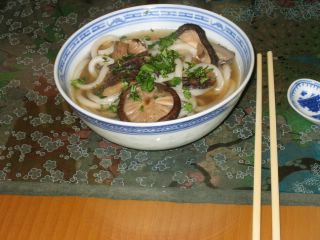 Fancy some slurping?