Guess what was waiting in the mail for me when I woke up this morning? It was a letter from a cinema, informing me that I'd gotten a job there!! (I had an interview on Wednesday). Haha! I've only been "unemployed" for two weeks! I have paid induction training tomorrow – which is when I was planning on making this lunch. But news of this new job threw my plans into chaos. See, I've got this training thing on Saturday, my brother is working tonight, and my dad's working all weekend. So when, when, when would we fit in these sausages? Luckily, after a bit of tricky negotiation, we managed to find a bare forty-five minutes when we'd be all free, and all together. Tonight, 6pm on the dot, before Daniel had to leave for work at 6:45. PHEW.
But I still wanted to go shopping in the afternoon!
So I had to get my ass in gear.
FINALLY, THE BASIC ALWAYS WELCOME SATURDAY LUNCH FOR 8
90. Red Wine, Cumin and Onion Gravy
91. Seville Orange Cream
92. Shortbread
By the way, I halved quantities for everything except the shortbread. (I love my biscuits, I do).
I started off baking the Seville orange cream (I'd made the mixture a couple of days earlier and left it sitting in the fridge to deepen the flavour), whilst I prepared the shortbread. The Seville orange cream (actually lemon cream, but I substituted oranges) is a mixture of juice, zest, sugar, double cream and eggs, which you mix together. As for the shortbread, in her recipe, Nigella says just to chuck everything in a processor, and then shape it into a log, refrigerate it, and slice it up. I actually found the mixture very difficult to work with, as it was very crumbly. I would have been better off just pressing it into a mould.
Whilst that was happening, I had a shower, and then made the
vegetable miso broth
for lunch. After we ate it, I took a bus to the city, tried on some outfits at Miss Sixty (gorgeous, but WAY out of my price range), then rushed home and started on the dinner part of dinner.
So, boiled up some potatoes, and shunted the sausages in the oven. I got four plain beef sausages (the thin ones), and four pork, bacon and leek ones (the fat ones). Then I did the gravy. I used a mixture of red and brown onions (because that is what I had), and it was absolutely fantastic! It was thicker than I expected, and looked more like an onion jam, than a gravy. But it was great. I know Nigella quantities are usually quite large, but we could have done with more gravy – double, triple even!
When the sausages were nearly done, I mashed the potatoes with a generous amount of butter and cream, and dinner was done!
Red onion and cumin gravy
Sausages mash and gravy – By the way, I prefer the long and thin (beef) sausages, because the thick (pork, bacon and leek) ones were a bit dry.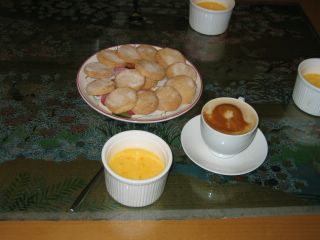 Seville Orange Cream, Shortbread
The texture of the orange cream (baked in a bain marie) is lovely – set on the top, and a thicker, softer crème below. I absolutely adore the flavour of Seville oranges, but be warned, they are very tart. I'd have done well to increase the sugar content of this one. (Even though I usually find Nigella's desserts on the sweet side anyway). I'd definitely want to make this again. My brother especially thought it tasted wonderful.
The shortbread wasn't fabulous – they smelled great, but were quite dry (which means, I think, I overbaked them). My mum actually said, "I make better shortbread". Aww!
Mum had a latté with hers, and I had an espresso. Very Euro-chic.