This is the Anglicised Involtini, which is one of the "Six Ideas for Kitchen Suppers" from the
Dinner
chapter. So far, I've done three of the six, (including the involtini) and they've all been great! The others I've tried are the
One-Pan Chicken
and the
Tagliatelle with Chicken from the Venetian Ghetto
.
24. Breadcrumbs (Basics etc.)
Lucky for me, the list of ingredients included breadcrumbs, which gave me an opportunity to cross another recipe off my list. We don't tend to get breadcrumb-friendly bread at our house – it's either dense, dark, intensely grained bread, sweet egg-bread (like challah) or super-plastic WonderWhite supermarket bread. So on Friday I picked up a small white block loaf from Baker's Delight, cut the crusts off half the slices and let them dry out for a couple of days. Saturday night I whizzed them up in a processor, and let them dry out in that round metal dish you see there…
Fresh Breadcrumbs
After hiving off the two tablespoons required for the recipe, I put the rest into two zip-lock glad bags and chucked them in the freezer.
25. Anglicised Involtini
Nigella has a few versions of this – griddled eggplants rolled around a filling. There's the "Soft and Sharp Involtini" from
Nigella Bites
, the "Involtini" in
Feast
, and the "Eggplant and Feta Rolls" in
Forever Summer
. I've done the Soft and Sharp, and the Eggplant and Feta Rolls, and can heartily recommend both of them!
You make this in stages. Firstly, griddle some thinly sliced eggplants. Then make the filling, roll the eggplant slices around the filling and arrange snugly in a dish. Pour over tomato passata and arrange some thinly sliced mozzarella over the top. I did the griddling and filling this afternoon and let them sit in the fridge until dinner time. I got fourteen rolls out of the mixture, even though Nigella says you'll get 12. I think I just wasn't as generous as she is with the filling, so could stretch it over more eggplant slices. (By the way, I griddled more slices than Nigella suggested because I absolutely love eggplant and wanted to munch whilst cooking).
The filling itself has Lancashire/Provolone cheese (see below), breadcrumbs (see above), pine nuts, raisins, basil, parmesan cheese, garlic, olive oil and an egg. It smells brilliant!
Assembly Line
Ready to go in the fridge
Now, about ingredients… Nigella calls this an "Anglicised" involtini because she suggests Lancashire cheese instead of Provolone, as Lancashire is apparently easier to find in the UK. Well, this is Australia, and Italian cheeses are much more readily available, so Provolone it is. I found mine at my favourite Greek deli in Box Hill. I think it'd be a bit of a mission to find Lancashire; I'd have to trek down to Victoria Market or the Richmond Hill Café and Larder or something… Furthermore, I used ordinary mozzarella instead of buffalo, as it's cheaper. And you only need a few slices, so I didn't want to feel guilty about having leftovers.
So at around 6:30, I preheated the oven and finished off making the dish. The recipe specifies 150ml tomato passata, but I didn't think this was enough so added quite a bit more to get a generous blanket of red. Nigella says to arrange the slices of mozzarella down the centre "like a snowman's buttons", but I was thinking more like Santa Claus…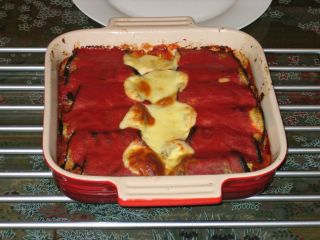 Mmmm....
Ooh, Nigella also says to drizzle with olive oil, and to add salt and pepper before baking it, but I forgot. I thought it tasted great, and I already found it quite oily as it was, because of all the cheese. But maybe you should try it with the olive oil. My friend DG has made the
Feast
involtini before, and said, "I think it's the olive oil that makes it in the Feast recipe, it melds with the tomato sauce and is gorgeous".
Unusually, even though the recipe serves four, my parents and I almost finished the whole thing. I didn't make a proper side dish, just a few crunchy salad leaves, which worked really well.
This was so delicious! We all loved it, a lot. This is definitely a keeper. I think you might have noticed a pattern with my dad – he's quite effusive and no matter what I cook, he'll automatically say "This is good", "this is really nice", "you're good at cooking", before he decides whether he actually likes it or not. But this one, he really, really, truly loved.
Dad:
This is so perfect. Today I was just thinking to myself, "I'd like lasagna for dinner", and you've made something so similar. Better, in fact!
Aww… thanks Dad!
Dad had a glass of cabernet sauvignon to go with, and my mother a New Zealand sauvignon blanc. Now, my mum's not much of a drinker. However, she desperately wanted me to say that she had a whole glass of wine with her dinner. This is, of course, testament to the fact that she enjoyed the meal, and not the start of a secret drinking problem…