I have my Business and Economy in South East Asia exam tomorrow. I'm so tired! I got 5 hours of sleep last night, then went to uni in the morning and studied all day in a café there. I came home at about 5pm (to beat the traffic), and collapsed in bed for an hour. I was almost contemplating giving up on cooking tonight…
I'm sorry guys, been studying all day, so tired, 3 coffees already
… but felt a huge pang of guilt because I'd promised my dad steak and sent my mum out to get all the ingredients.
17. Steak Mirabeau
Nigella took this recipe from
Leaves from the Walnut Tree
, (apparently the Walnut Tree was Elizabeth David's favourite restaurant), which I want to get my hands on, as Nigella praises it immensely. From what she says, it seems to be one of those classic culinary tomes for the contemporary home cook - very instructive, no pictures, lots of words. Sound familiar at all?
This is the last recipe from the
Fast Food
chapter. Surprisingly, it was actually quick to cook!! And despite my total stretched out, frazzeled tiredness, it was not a drama putting it together at all.
You fry the sirloin (aka Porterhouse in Australia) in butter and oil, and top it with a criss-cross of anchovies and olives. Then you mush up some anchovies in the pan juices and reduce it with red wine to make a sauce. Mmm... I absolutely LOVE anchovies, and so does my entire family! And they're sooo fab with meat! The good thing about steak, unlike
chicken breasts
(grrr!), is that it cooks really quickly, and they don't have to be done all the way through!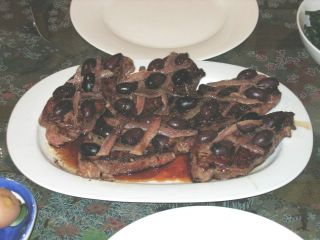 Ooh, it's the 1970s!
Steak 2 - served as per Nigella's suggestion, with boiled new potatoes and spinach
I cooked the spinach in a big pan with a bit of butter and nutmeg. It was so fantastic, the perfect foil for the rich and salty steak. The recipe calls for 4 steaks, but Mum bought a couple extra because she thought there wouldn't be enough. I thought she was being extravagant, but she was right!! I only had one, but my greedy family wolfed them down like no tomorrow.
I was surprised that it was possible to cook something so fancy so quickly. It was very rich though, I'd have to cut down on the butter next time... I can feel it coating my throat and making its way down to my arteries...