For our first weekend lunch from
How To Eat
, what better than the first lunch from
Weekend Lunch
?
BASIC NO-EFFORT SATURDAY LUNCH
Contrary to the title, there is a little bit of effort (or at least time) involved in putting this together. But it's not difficult by any stretch of the imagination. And I think that once you get into the swing of roasting chickens on weekend mornings, this would be a quick no-brainer lunch to put together.
8. Basic Roast Chicken (Basics Etc.)
9. Plain Salad Dressing (Basics Etc.)
10. Summer fruits and cream or ice-cream (Weekend Lunch)
This morning, Dad & I went to Rendinas butcher to pick up the chicken. Rendinas is the most fabulous butcher in the whole of Melbourne, and just around the corner from our house!
And here she is. A 2 kilo Glenloth Genuine Guaranteed Free Range Corn Fed beauty. Nigella says to rub it with a small amount of olive oil, sprinkle with salt and pepper, and shove half a lemon into the cavity.
Raw Chicken
I'm sad to admit I got a bit happy and excited whilst this lovely creature was in the oven, browning up. I was smiling, I was singing, (David Bowie's
Diamond Dogs
, thank-you, not an "I Love Chicken" song or anything...), I was saying to my family, "Oh my god guys, will you look at this wonderful chicken? You gotta see this chicken!"
Whilst this was cooking, I decided to melt some of the excess chicken fat, which I had virtuously removed from the bird, and extravagantly used it to roast some potatoes. When I'd cooked
duck
last week, all I could think of staring at its pool of melted fat was roast potatoes. Chicken fat is probably not as lovely as duck fat, but it's better than oil, and less feral than lard (which is what Nigella suggests – yurgh).
Rendering Chicken Fat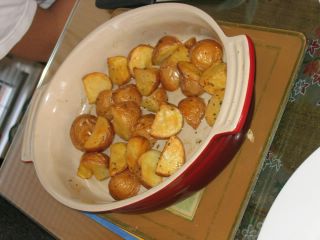 Roast Potatoes – potatoes, chicken fat and rosemary, cooked with the chicken for the last hour of cooking time.
Salad with plain salad dressing – sparing amounts of lemon, oil and salt, tossed vigorously.
Basic Roast Chicken in all her burnished glory. It went a bit speckly because I squeezed some lemon juice over it during the last 30 minutes of cooking, but this didn't hamper the taste.
Once it comes out of the oven, you make a thin gravy/jus thing, for which you boil up the pan juices with some white wine and water. I can't tell you how good this is. It's something so simple and easy that you'd think you could leave it out and the lunch wouldn't be affected. I'm telling you now, you can't.
This was a very nice, homey lunch. As I couldn't be arsed cutting up the chicken (what, and mess the bench up even more?!), I shoved it on a plate and we hacked at it with our forks and knives, much like how we'd do it if we'd bought a Red Rooster chicken.
Hacking at chicken
After eating, Mum kept picking at the remains of the chicken, whilst Dad curled up on the couch (yes, we have a couch in the kitchen), saying, "I'm so full!"
Me:
Mum, you're just going to keep eating that chicken until we take it away from you, aren't you?
Mum:
Yup.
Me:
Ok, let's clear up then. I'll get dessert happening. It's berries and cream.
Dad:
Oh, only a little bit of cream for me… aw man… I'm so full!
Summer Berries & Cream
Easy peasy lemon squeezy. Open a packet of frozen mixed berries, and pour out in a shallow layer on a tray or plate. Do this before you start on the chicken, obviously, as they need time to thaw. Then sprinkle with sugar, liqueur (half a mini-Cointreau, in our case), and some orange zest. The orange zest I harvested from the orange skins leftover from my healthy fruit salad breakfast.
You do have to be generous with the sugar, as I know from my flambée experience at work. Whilst customers look on in horror as I dump spoon after spoon of sugar on their berries, I remind them, "Yes, you see, the natural berries themselves are quite tart, so you need a little bit of sugar to counter that". Of course the butter and brandy we add is just pure indulgence.
Anyway, back to our dessert. I probably could have been a bit heavier with the sugar today. I used about 3 tablespoons for the 500g of berries, but we like it sour… I guess if you prefer things properly sweet, you'd just have to add more, tasting as you go. I divided the, berries between four bowls, and had a little teaspoon of cream for my dad, and more generous dollops for the rest of us. Normally we'd go for vanilla ice-cream, but it was cold today, and I think we're all a bit over vanilla ice-cream at the moment. The cream was surprisingly good. I know that berries and cream are a classic combination, but I'm just not used to having cream as a dessert, so I wasn't convinced of how good it would be. But the tart berries, made fragrant with the orange zest and liqueur, the fatly rich cream, the one spoon – fabulous.
Dad:
Can I have more cream?
And 4 minutes later, as he gets up with his bowl…
Dad:
What?! There's no more berries?!
Me:
I thought you were full!
Dad:
I was!
Success.