39. Clementine Cake (Basics, etc.)
Clementines, I'm told, appear in England only at Christmas, which is one reason why this cake is a fixed item in Nigella's Christmas repertoire. Being both seasonal, and English, I wasn't sure if we could get them here at all. I mean, these English cookbooks I love reading are full of strange words like "clementine", "damson", "greengage", "gooseberry", "elderflower"... exotic items that I've heard of, but never seen in the flesh. (Actually, though, when I went to England last year on holiday, I had the pleasure of trying fresh gooseberries, and the misfortune of trying elderflower cordial. Yurgh.) Back here in Melbourne, most of these foods remain firmly stuck in the literary realm, not the culinary one. However, the other day at Safeway, what did I see but a huge pile of CLEMENTINE MANDARINS! Score! It's Clementine Cake time!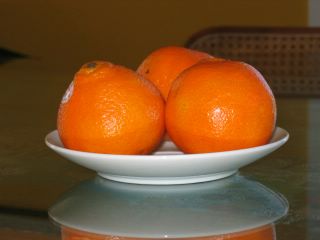 Clementines
Nigella says to boil the fruit for 2 hours, purée them and mix them with eggs, sugar and almond meal. But, following a tip I picked up on the Nigella.com forum, I just microwaved the fruit in water for about 8 minutes in total, turning them over every couple of minutes. It was so much easier and faster!
Such a shame - you're supposed to bake this in a 21cm springform tin, and I wanted to use one of the Living Kitchen springform tins that I got for my birthday, but there isn't a 21cm one!! There's 20cm, 23cm and 25cm. Dang. So I pulled out an old and extremely battered 21cm springform from the bottom of my drawer, and lined it extremely carefully with Glad Bake. (Such fabulous stuff, I couldn't bake without it!)
Batter
I'd also heard horror stories on Nigella.com about the cake being too moist, needing longer cooking and leaking out everywhere, but luckily nothing of the sort happened. This was one of the reasons why I was so anal about using the right size tins. But also, I think you've just got to be careful and measure out the correct weight of clementines, as opposed to going by number of clementines.
Cake cooling in tin - It smells heavenly…
Whilst the cake was baking I started on some ice-cream.
40. Basic Vanilla Ice-cream (Basics etc.)
Nigella's vanilla ice-cream is just her custard, with a lot more sugar (apparently freezing things kills the flavour). And you know what, after all my
worrying about making custard
, there were no dramas with it. I used a different pan, a very large, wide one with a thick base – which I think made all the difference. After about 10 minutes cooking, it didn't get super-thick like powdered custard gets, but it had thickened, and did smell custardy, so I stopped cooking at that point, and let it cool it in the sink.
Custard – cooling in the sink
Cream in custard – Nigella suggests adding 300ml double cream, if you want it creamier. I wasn't too fussed about how creamy it was, but I added the cream so that I'd end up with more ice-cream! Double-bonus!
Yummmm
It was so delicious… after putting the ice-cream into the freezer, I skipped yoga and spent the next half hour licking out every bowl, pan, spoon and utensil that had come into contact with the lovely, lovely custard….
I don't have a verdict yet for the cake, as we haven't eaten it yet. Apparently it gets better if you leave it. But we will eat it tonight – my parents are going out for dinner with their friends, and will come home for cake…