*Long Post Warning*... if you can't be arsed reading, then enjoy this lovely picture of tonight's apple pie!
For what seemed like the first time in a long time, not only did I have a night off work, but I also had no pressing assignments, and thus actually had the time to make a full menu for dinner.
With this evening off in mind, I chose the LATE-SUMMER LUNCH FOR 6, from the
Weekend Lunch
chapter, a few days ago. My decision was based on the fact that lamb is best in Spring, and that the ingredients were easily obtainable, so I could get my mum go out and buy them all. Also, it looked possible to cook all at once in the evening after uni… and the weather was right for it.
Nigella says this menu is "at its best" eaten with in late Summer, "the air still warm, the wind beginning to bluster limply". It's mid-Spring right now, but the weather is still only sporadically Spring-like – it is getting warmer, but there's a cool wind about, and each day this week seems to be made up of ten minute patches alternating between sun and drizzle.
161. Roast shoulder of lamb (Weekend Lunch)
162. Ratatouille (Cooking in Advance)
163. Green salad with green beans (Weekend Lunch)
164. Sweet Pastry (Basics etc.)
165. Translucent apple tart (Weekend Lunch)
Needless to say, for the past couple of days, I've been quite excited at the prospect of cooking a full meal, and thoughts of how to organize the preparation of the whole meal have been occupying my mind.
For instance, today in our Agricultural Economics tutorial, we had a class debate, where we had to get into groups and represent the interests of a certain region (the US, the EU, the G10 countries etc) and then debate the technicalities of economic reform in the agricultural sector. I gave an impassioned (pre-prepared) speech, and spent the rest of the debate concentrating and dutifully writing "notes". Here's what I actually wrote…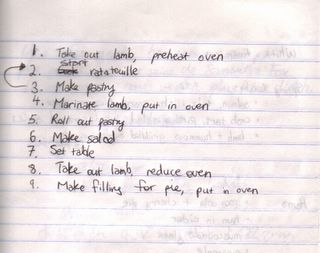 I pretty much followed that list for making dinner.
Hunk of Meat - a lovely boned lamb shoulder.
Sweet Pastry - made in a KitchenAid. The sweet pastry is a bit harder to work with than the shortcrust, but it tastes so much better! It's softer, more delicate, and more cakey. I had to add extra flour because the mixture was a bit soggy, but luckily it came to no harm. And thence it went into the fridge whilst I continued with the cooking.
Ratatouille - it is a variety of chopped up vegetables, cooked in olive oil, with ground coriander and fresh parsley. It takes a while to chop and prepare all the vegetables, but once you get everything in the pan, you don't really have to worry about it. Just stir it every now and then to stop it from sticking. It took about an hour to cook in total, and is best at a lukewarm temperature.
Hunk of marinated meat - garlic, rosemary and olive oil.
Whilst the meat was cooking, I made the salad, which is a mixture of lettuces and blanched green beans, with a simple dressing.
Hunk of cooked meat
When the meat was resting, I made the pie filling and then put it into the oven.
Filled pie - melted sugar and butter, an egg, and two grated granny smiths. (I believe Bramleys are peculiar to England, because I've never seen one here!).
Dinner!
With regards to the lamb, Nigella says to cook it for "30 minutes per kg plus 20 minutes" but I didn't see the "plus 20 minutes" part and it came out undercooked and raw in the centre. We were starving by this stage, so we cut off the more cooked end pieces, and shoved the unrolled meat back into the oven, underneath the pie.
The lamb marinade is great, however! Properly cooked and charred on the outside, the lamb would have been perfect. The ratatouille's awesome - I love eggplants, and when cooked in olive oil the flavour is amazing. We also loved the salad; the blanched green beans add another, unexpected, texture.
Whilst the pie was cooling, we ate the delicious pastry offcuts. Mmm...
And finally, it was time for pie.
Slice of Pie
The pie was fantastic, amazing, gorgeous!! The buttery and biscuit-like pastry perfectly complemented the apple filling, which was both fresh-tasting (because of the grated apple) and warmly comforting. With a scoop of vanilla ice-cream, it was heaven!
Dad:
Oh my god, this is amazing... this is great... this is really good... this is amazing...
Mum:
What, are you about to ejaculate or something?
Trust me, my mum's response sounds much less crude in Hokkien. But I still pissed myself laughing.
This was a truly wonderful menu!