I really was in a baking mood today. However, there are surprisingly few biscuit/muffin/cupcake recipes in
How To Eat
. But seeing as it happens to be my friend DG's birthday today, I thought I'd bake the birthday biscuits.
I didn't really think this one through, did I? She's in Europe and I'm in Australia, so I guess I'll just have to eat them for her.
135. The Biscuits
These biscuits are the ones Nigella says (or said) she always bakes for her children's birthday parties. Interestingly, these are different from the birthday biscuits that appear in
How to be a Domestic Goddess
and reappear in
Nigella Bites
and
Feast
... who knows why? Maybe she replaced these ones with a superior version and just never looked back. I'll let you know which version I prefer once I get around to making the other one. (Next year, next year...)
You can make these biscuits by hand, in a KitchenAid or in a processor - I used the processor. Basically you just dump all the ingredients in the processor and whizz them up. The dough has a lovely rich smell thanks to the addition of cinnamon, light muscovado sugar and golden syrup. For rolling out purposes, the dough is very sticky - Nigella says that this is so you can keep rolling and cutting out and re-rolling without the dough going dry and tough.
The recipe says it will make approximately 60 biscuits, depending on shape and size of the cutters. For your information, I used the Living Kitchen cookie cutters, and got 88 biscuits in total...
4 x big hearts
13 x little hearts
2 x big circles
4 x little circles
6 x big stars
2 x little stars
2 x "2"
6 x "A"
2 x "B"
3 x "C"
4 x "D"
3 x "E"
1 x "F"
1 x "G"
4 x "H"
3 x "I"
1 x "J"
1 x "K"
1 x "L"
1 x "M"
1 x "N"
4 x "O"
2 x "P"
4 x "R"
3 x "S"
3 x "T"
1 x "U"
1 x "V"
1 x "W"
2 x "X"
2 x "Y"
It was a bit of a nightmare cutting out all the little letters from the sticky dough, but I persevered, and it got easier as I went on. It probably would have been easier to start with the larger shapes and then progress to the little letters as the dough got stiffer with more flouring and rolling, but I had to start with the letters to make sure I didn't run out of dough to write all the words I wanted to.
I made the biscuits whilst cooking last night's
shepherds pie
, and decorated them after dinner. I didn't decorate them all, however, because as adults, we prefer our biscuits unadorned with feral coloured icing. They were pretty though...
Decorating
Cookies!
Happy Birthday DG!!
Sarah Discovers HTE
And then I spent a good hour making out funny words with my letters...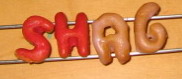 And finally, we sat down and ate them...
Plate of cookies
Plate of cookies
These cookies are fab! I love the cinnamon aroma, and they have a melting buttery texture! In fact, I might go and grab another one right now...