Ilana recently posed another question to me...
Is it ok to ask another question??? Since HTE doesn't have any pictures, and since you have photographically documented close to 300 recipes now, if HTE ever was illustrated (kinda hypothetical), which picture would you want to definitely be included based on its general aesthetic beauty??Answer:
Of course it's ok!
Here are my favourites.
Pea Risotto
Mushroom Udon Soup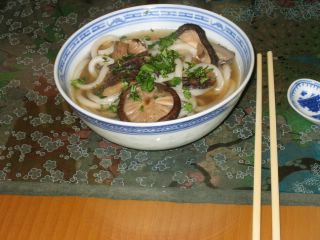 Pig's Bum & Custard
Mackerel Teriyaki
Birthday Biscuits
The Perfect Plain Sunday Lunch for 3
Truffle Oil Potatoes
Meat
Peas
A strip of meat about to be eaten... with dijon mustard
Madelines
Fruit Salad, vanilla ice-cream and butterscotch sauce
Liam with Crackling
A picture of health
Risotto-inspired Rice Pudding
Typical, eating in front of the computer.
Roast Potatoes
Chicken Patties
Golden Root Vegetable Couscous
Great Aunt Myra's Moroccan Orange & Date Salad
Pavlova
A Summer Lemon Meringue Pie
One slice gone
Vegetarians turn away now
Drool.
Fried Prawn Cakes
Queen of Puddings
Poached Peaches and Baked Sauternes Custard
Spaghetti Carbonara
Pasta.