Today was the first time in ages that all four of us have been home together for a meal. What with university, and varying work timetables for myself, my brother and my father, organising a family meal sometimes seems like a military operation.
SPRING LUNCH TO LIFT THE SPIRITS, FOR 6
120. Lemon linguine121. Irish Tarte Tatin
I've been meaning to make this menu for a while, as it seemed both special-occasion-worthy and easy. A couple of days ago I realised we would all be eating together on Sunday night, so I decided this would be perfect. It's Spring too. I was working from 10:00am to 5:00pm today, constantly on my feet, and when I finally emerged from the maze-like staff area of Hoyts (the cinema where I work), it was windy and raining! Thank goodness I'd chosen a meal "to lift the spirits".
As soon as I came through the door, at 6:34PM, I started on the tarte.
Chop up some rhubarb, put in a pie dish and cover with sugar. (Nigella says 900g, but the bunches I got only ended up being 600g. Big deal, they fit perfectly in the dish, so I wasn't fussed).
Then make the scone dough/pastry base/topping thang. To do this, you simply rub butter into flour, sugar and baking powder, before adding milk and an egg. (I have to admit, though, that I started off rubbing in the butter manually, but gave up about 30 seconds into the operation and upgraded to the KitchenAid). It makes a very squishy, pliable dough, which is pretty easily rolled into a rough circle (I needed to add lots of flour) and then pressed over the rhubarb. Then you just have to brush it with beaten egg and sprinkle with sugar, before putting it in the oven.
Pie ready for oven - I put it in on a tray, in anticipation of the filling bubbling up and spilling over. It didn't end up spilling, but you can't be too careful when it comes to avoiding cleaning the oven.
Once the tarte was in the oven, I made the (very simple) pasta. Just boil linguine (my favourite variety of pasta!), then drain and toss through some butter, then the sauce.
Sauce - double cream, parmesan cheese, egg yolk, lemon zest and juice, pepper and salt, beaten with a fork.
Lemon Linguine
This pasta is absolutely fabulous! You'd think it might be a bit heavy and rich with all the cream in it, but there's not a lot of cream for all the pasta, and the lemon gives it a light, fresh feel. I served it, as suggested, with a crisp green salad - again, an
iceberg lettuce cut into wedges
.
Dad:
Do you know what would be good in here? Bacon! In small pieces and crunchy.
Daniel:
Or thinly sliced prosciutto!
I am inclined to agree that bacon or prosciutto would indeed be a good addition. Next time, next time.
My family weren't really overflowing in their praise, but they obviously loved it, as we all just basically kept our heads down and ate until it was all gone. I had halved the recipe - Nigella says it serves 6, so I figured that half of it would feed the 4 of us generously. We weren't still hungry after it, but I have the feeling we could have eaten more if there was more. Good thing I restrained the portions though, as we still had dessert to come.
And speaking of dessert, the tarte finished baking as we were eating, so I took it out and let it cool down a bit. (If only I had a windowsill for such things...)
Baked tarte
Now was the test - could I flip it over without breaking the tarte or burning myself? Well, I passed this test. Twice! After I flipped it over the first time, it wouldn't come out! So I had to flip it back over, and loosen the dough from the sides with a knife, before flipping it over again. But it came out fine, and I wasn't burned. Phew.
Upside down tarte
Plate empty - lettuce in the background, cream and brown sugar in the dish on the right.
Excuse all the photos, but I thought it was just so gorgeous that I couldn't stop taking them!
Tarte #1: "Because of the sloping sides, the pie, when turned out, looks rather celebratory, as if it were holding up the rhubarb as an offering".
Tarte #2: served with cream and soft brown sugar, as suggested in the recipe.
Tarte #3: One slice with a small scoop of
rhubarb ice-cream
- a flavour sensation, I tell you!
Tarte #4: One slice of tarte with a dollop of cream and brown sugar.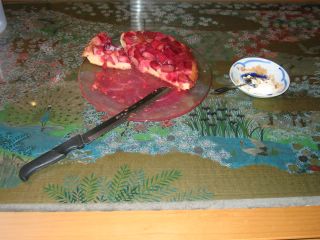 Tarte #5: Aftermath
This is a good tarte. The base is nice and thick, but not too doughy, and the rhubarb is lovely and soft, the flavour intensified by the oven. Cream and sugar is an inspired accompaniment, but the
rhubarb ice-cream
is also fantastic, especially if you wanted to do something extra-fancy, for a dinner party, say.
We ate about half the tarte between ourselves. I've cut the rest into slices, wrapped it up and chucked it in the freezer. Our freezer is starting to overflow (again)... sigh!